Sponsoring
Let's cook aqua pazza using dried tomatoes!
I thought I wouldn't use the dried tomatoes I made before, so I decided to cook aqua pazza for the first time in a while, so I'll leave the procedure briefly.
Ingredients are easily prepared at the supermarket, so I think it's a good idea to cook them for lunch or dinner! Click here for an article on how to make dried tomatoes.

Ingredients
Fish fillet (I used red sea bream fillet with bone this time)
Clams (I used frozen ones this time)
Salt (I used algae salt this time)
Dried tomatoes (raw tomatoes are also acceptable)
Olive oil
Pepper (if you like)
Dried parsley powder (if you have it, it will be more colorful!)
Cooking time: Approximately 20 minutes (excluding pretreatment)
I use fish fillets and clams like this. It is usually sold to supermarkets. You can change the fish to your liking, or you can get it at the supermarket!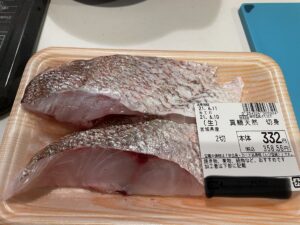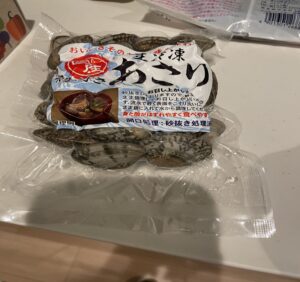 0. Pretreatment
Sprinkle salt evenly on the fish and season it. Wipe off excess water with kitchen paper.
If you can remove the bones and scales at this stage, it will be easier to eat if you remove them. If you try to force it, fish meat will collapse, so it is better not to overdo it.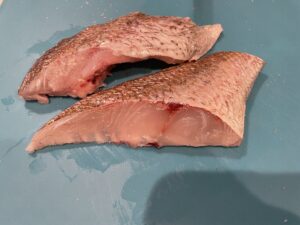 The clams were frozen this time, so soak them in water and thaw them. If you need to remove the sand, be sure to remove the sand. I used the frozen one for the first time this time, and it was delicious as usual!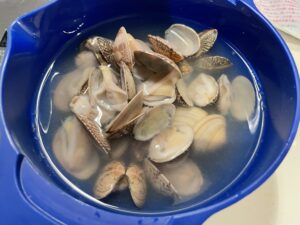 1.  Bake fish
Next, I will bake the fish. Add olive oil and seasoned fish in a hot frying pan.
Bake from the lenticel.
If you don't have bones, fish meat may bend down. In that case, hold it down with a spatula to prevent it from bending over.
Especially for the lenticel, it will be delicious later if it is baked well. If you lightly press it with a spatula, you can make a crispy and firm grill.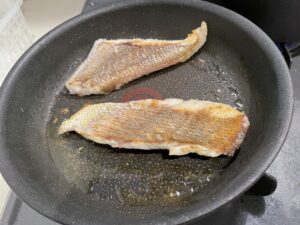 2. Stew the ingredients
Next, stew the ingredients. Add enough water to soak the fish fillets. This time, the water when the clams were thawed seemed to be delicious, so I put it in. At this time, add the clams together and simmer.
Occasionally sprinkle the soup with a ladle so that the soup is applied to the whole fish and clams. I didn't take the lye because it was troublesome this time, but if it's a fresh fish, I don't think it's necessary to take it (if you're interested, take it).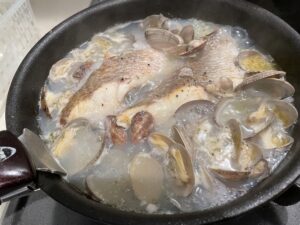 After boiling, add the dried tomatoes here. Maybe because of the sugar content of the tomatoes, it hardens while I put it in the refrigerator, but I don't mind putting it in! Also add a little olive oil.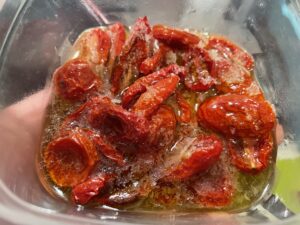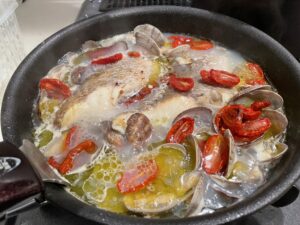 Stew again with a ladle, occasionally sprinkling soup until the water is reduced. In my case, I wanted a refreshing taste, so I put ordinary undried tomatoes before turning off the heat and stewed them a little.
3. Complete
Finally, if you want a little accent, add pepper, and if you want to make the color beautiful, sprinkle with parsley and it's done!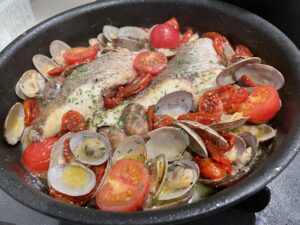 4. Put spaghetti at the end!
I ate a little fish meat and ingredients, but I was a little unsatisfied, so I will make spaghetti with the remaining ingredients and soup. Simply warm the remaining soup, add spaghetti on the market, and adjust the taste with salt and pepper….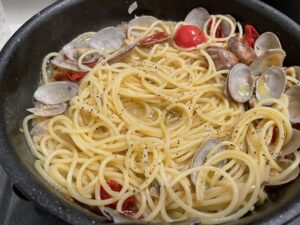 It's done!
I also add a little parsley for coloring.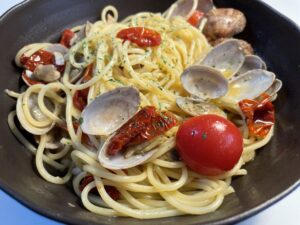 Impressions
I cooked aqua pazza after a long time, but I thought it was an attractive dish that you can directly enjoy the taste of the ingredients because it is made with simple ingredients and seasonings.
The spaghetti at the end is also a very delicious spaghetti that accepts all of the soup. As with Japanese food, I like cooking where you can enjoy the taste of the ingredients with simple seasonings, so I will try another aqua pazza using fish and seafood.