Sponsoring
4. Check data in iOS app – Swift Charts implementation
This article is based on the session presented at iOSDC2023, Growing apples with Swift This is an article that summarizes the contents of Part 4 of the presentation.
This is a sequel to the article "3. Automatic Water Supply – Operate Raspberry Pi's GPIO with Swift". If you haven't read it yet, please read it!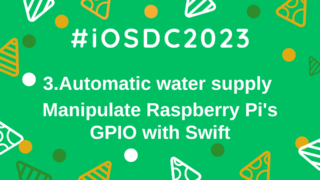 SwiftGarden 3. Perform automatic water supply - Operate Raspberry Pi GPIO with Swift
This article is an article that summarizes the contents of Part 3 "Automatic Water Supply - Operating Raspberry Pi's GPIO with Swift" in "I tried growing apples with Swift"!...
This time, we will summarize the implementation contents of the application side of ⑤!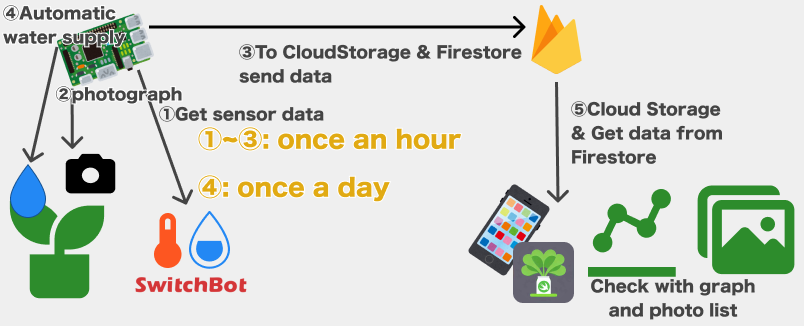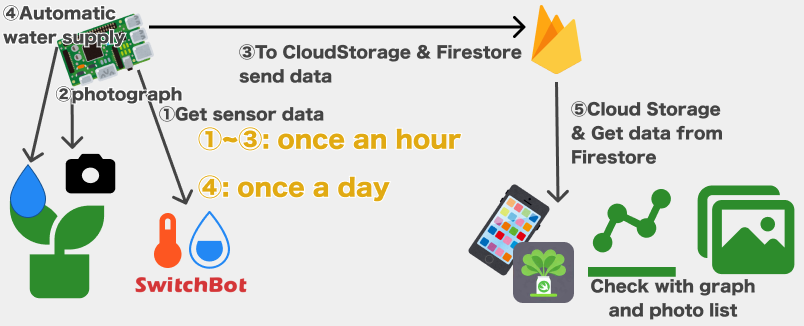 Allow your app to see Firebase data
This time, I implemented the following in the app
Hourly display of room temperature and humidity for a day (using Charts)
Display hourly photos of the day in a carousel UI (details in repository)
Display photos from a specified period in a time-lapse style
I will summarize the implementation details in order
Graph display implementation
The chart implementation uses Charts available in iOS16~ (I have never touched it, so just It was a good opportunity!)
This is the graph I am trying to implement
x-axis
Y axis

The left side is the temperature (maximum value is 50 (°C))
Humidity on the right (maximum value is 100(%))

Display red vertical line at currently selected time

A line that indicates what hour of the hour photos are displayed below this graph
This line can be moved by tapping in the graph or dragging left and right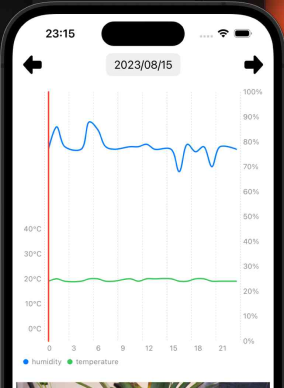 Now let's implement
First, prepare a struct for the data model that you need to display
This time we will display the temperature and humidity, but the struct itself is common and there is no problem, and we set one property of the enum that allows us to distinguish between them.
enum DataType: String {
    case humidity
    case temperature
}

struct DataModel: Identifiable {
    var id: String { type.rawValue + xValue.description + yValue.description }
    let type: DataType
    let xValue: Date
    let yValue: Int
}
Then convert the array of Models holding the data from Firestore to an array of DataModels above
Define humidity and temperature arrays in a common array in an array of DataModel called dataList
let postModels: [FirestoreDataModel] // document of Firestore data

private var dataList: [DataModel] {
    postModels // for humidity
        .map({ DataModel(type: .humidity, xValue: $0.date, yValue: $0.humidity) })
    + postModels // for temperature
        .map({ DataModel(type: .temperature, xValue: $0.date, yValue: Int($0.temperature)) })
}
And implement the Line chart
Chart View dataList array prepared earlier
Then you can get one of its elements in the closure, so you can set to x/y values of LineMark
x is time, y is humidity or pass the temperature value

Last but not least is the setting to display humidity and temperature as separate charts instead of one chart

Chart(dataList) { data in
    LineMark(
        x: .value("Time", data.xValue, unit: .hour), // Set the X-axis unit to time
        y: .value("Value", data.yValue)
    )
    .foregroundStyle(by: .value("Data Type", data.type.rawValue)) // Separate graphs for each data
}